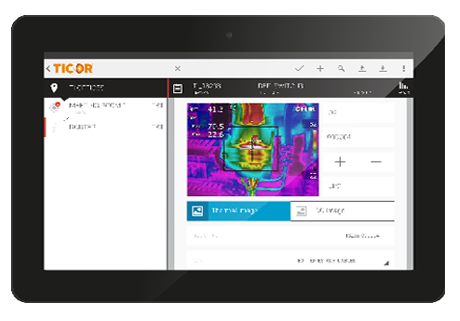 Analyze & Trend Your Data
Working with clients to build value added solutions and the necessary frameworks to implement a successful thermal imaging campaign into any predictive maintenance or condition monitoring program by offering thermal imaging consultancy, thermal imaging reporting software, thermal imaging camera sales, technical testing equipment and optical gas imaging.
Reasons to select TI:
Our equipment identifies abnormal temperatures that indicate developing problems and high risk areas. Identifying these issues early reduces risk, downtime and operational costs.Our Inspections are carried out using portable equipment, detecting dangerous situations not visible to the naked eye.
We use the latest software technology to deliver you the best results – TICOR
Tablet: Built using the latest Android software supported down to KitKat 4.0. Tablets are lightweight, have long battery life and use integrated cameras with powerful internal hardware for fast inspection and data capture.​
Inspect: Engineers inspect their equipment inventory from imported lists or they can build detailed inventories as they go at no extra time over regular inspection methods. They will write their report during the inspection without any time penalty.​
Capture: Instantly diagnose and record equipment with faults using formulas in-built to various module types. Utilise the tablet camera for digital images and/or quickly import images from 3rd party cameras such as InfraRed/Corona or other types of imaging device.​
Organise: Beautiful and simple interface which organises inspection data into an easy to read and understand format. Use TICOR™ as standalone or you have the ability to connect it with our 'One click' sync Campaign Management system WEBCOR™. ​ ​
Report: Create your detailed, easy to understand and standardised report direct from TICOR™ in under 2 minutes. Save and/or email directly to your client there and then.​                          
Our Thermal Imaging Reports categorize critical, serious, important and minor problems in comprehensive table.
– All engineers multi-skilled certificated thermographers.
– We only use large format high spec. cameras.
– 1000's of multi-discipline scan hours per year..
– ISO 9001 / 2008 accredited.
– BINDT & UKTA members.
– Same day / 24 hour report delivery for immediate remedial work.
– UK & Worldwide coverage.
You might be interested in these…