Ti Thermal Imaging Ltd offer the latest Thermal Imaging condition based monitoring software.
TICOR ™ Is the first Thermal Imaging reporting software which has been designed for android and it enables engineers to inspect and deliver reports onsite.
Thermal Imaging technology is widely used for condition based monitoring it can help to  identify and detect potential failures in electrical and mechanical environments and with the introduction of  TICOR™  engineers can now inspect components and generate Thermal Imaging reports onsite giving crucial information of critical and open problems on site. TICOR™  was fundamentally built to reduce reporting time but now has been defined as a key tool for predictive maintenance and condition based monitoring programs. Information that is collected and analyzed within the reports help to minimise risk for the following scenarios:
o Loose terminals
o Phase imbalance
o Current overload
o Poor cooling of panels and mechanical assets
o Under & over lubricated bearings
o Heat loss from ovens, buildings
o Pipe blockages
o Electrical fire prevention
o Poor Insulation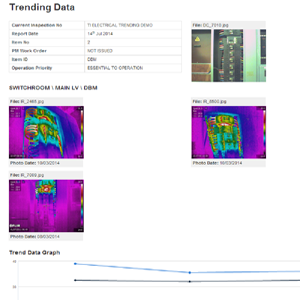 – Trending data collected can be used to quickly analyze and monitor the differences in temperature data from periodic inspections.
– Algorithms have been built on knowledge based libraries to predict critical, serious important and minor problems. Load correction formulas for electrical inspections and Thermal indexing formulas for building inspections have been built into TICOR™ generating accurate findings for fault pages.
[title size="2″]Tell Us About Your Project[/title]