Helping Protect The Offshore Oil and Gas Industry!
An  optical gas Thermal imaging camera allows you to recognize and locate gas leaks without having to shut down systems. An optical gas imaging camera is a portable piece of equipment that increases safety for the plant  and the environment by finding potentially harmful gas leaks.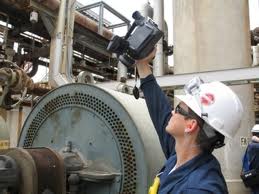 Key benefits
Protect the environment
See through flames
Improve safety
Visualize and trace gas leaks
Reduced inspection and testing time
Efficiently reduce revenue losses
Optical gas technology has the ability to image a large area quicker than alternative when detecting gas leaks, OGI has the ability to detect leaks in areas difficult to access with traditional contact measurement tools.  Gas leaks can occur in a plant or refinery at anytime and The Flir GF-Series OGI camera has been designed to effectively  locate gas leaks which provides substantial cost savings and can minimises  the loss of production.
It is impossible for the naked eye to detect gas leaks as they are opaque in the infrared wavelength, thermographic technology now makes it possible to identify the leak. Thermal Optical gas imaging cameras use the aforementioned technology to detect leaks now more than 20 different toxic, explosive and flammable gases can be detected In the right atmospheric condition.
Optical Gas Imaging Technology In Action!
If you are interested in Optical Gas imaging equipment or thermal imaging application please contact us at Ti Thermal Imaging LTD, where one of our technical engineers will discuss your project with you.
Call : 020 3044 294
Email : info@thermalimaging.co.uk