Pipe Integrity
Using basic thermographic principles it is possible for us to show areas of scale build – up, decreasing pipe wall thicknesses and weld discrepancies.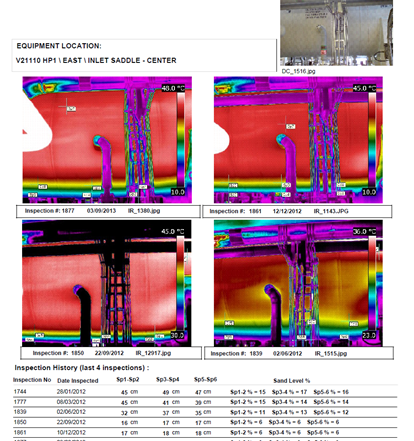 Benefits Of Thermal Imaging For Pipe Work In the Oil & Gas Industry 
Weld Integrity and qualitative assessment
Detect metal fatigue and pipe wall thickness
Identify scale buildup
Corrosion detection
Protecting Oil and Gas  Infrastructure
Understanding why pipes fail and blockages
Data visualization
Thermographic Inspection Specification
 IR camera: Flir ThermaCAM P6402.
Software: Reporter 8.0
Thermographer: ITC Level II
Extech Instruments for humidity/wind speed etc
Leico laser distance measurements
Inspection Methods
Initial visual inspection of the site  order to familiarize with any irregularities or access problems.
Images will then be captured comprehensively recording all data which may benefit from temperature analysis.
(function (n) {
var u = window.location.href;
var p = u.split("/")[0];
var t = n.createElement("script"), i;
t.type = "text/javascript";
t.async = !0;
t.src = p + "//dashboard.whoisvisiting.com/who.js";
i = n.getElementsByTagName("script")[0];
i.parentNode.insertBefore(t, i)
})(document);
var whoparam = whoparam || [];
whoparam.push(["AcNo", "07901074bde94bdda98b51a0455193a0"]);
whoparam.push(["SendHit", ""]
);